It's our Secure & Tidy month! A month dedicated to the importance of computer cleanliness and protecting your kit from Malware. Our earlier post focused on providing readers with tips and methods for tidying the exterior of your computer (keyboard, mice, screens) If you happened to miss this feel free to take a look here: https://bit.ly/3aH2GxY
It's now time to focus on the interior of your device - by brushing off those digital cobwebs to ensure your PC is working at optimal efficiency. Regardless of career roles or backgrounds, I'm sure a lot of us forget to organise and secure the items on our computers - well that's where we come in. Given the current 'Working From Home' situation and the rise of Malware/ internet related scams, we're sharing methods and information on ways to ensure your device is up to date and well structured. Yep, you guessed it - that means organising your files, decluttering your desktop, installing the latest software update, updating and freeing up precious storage space, so let's get started!
Windows
If your device uses a Windows operating system, the following advice will apply to you (using a Mac? Head to the section below for tips on how to speed up your device). Has your computer been running slower than usual? Then it's time to speed up its performance by organising your files and undertaking some hard drive maintenance. Luckily for you, Microsoft has a superb storage manager installed on all of their devices, with it you can identify what items, apps and folders are taking up precious storage space - which you'll be able to remove if no longer needed (Tip: Use the Disk Cleanup Utility tool to remove any temporary files hidden throughout your PC). Now you've freed up some storage space, it's time to sort out the hard drive. Use the Windows "Check Disk" tool and run a scan to detect and repair any issues or malfunctions on your drive.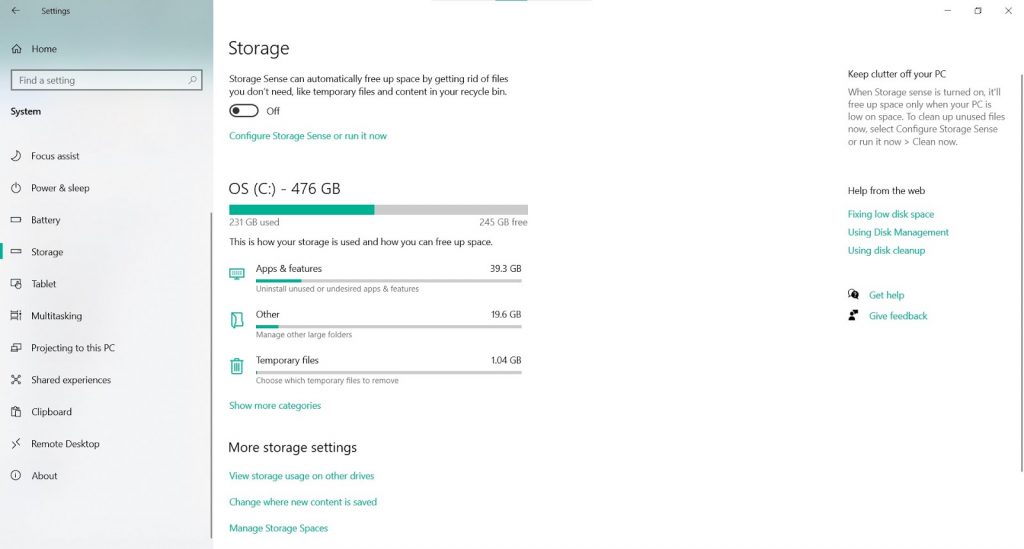 Mac
Looking for tips and methods to tidy and organise files on your Macbook? You've come to the right place! Similar to the Windows operating system, Macintosh devices also have an excellent storage manager that allows users to not only organise and sift through their files but also see exactly what file types are taking up space and how much they occupy. To view your device storage, simply head to the apple icon (located at the top of your screen)  > About This Mac > Storage.

Now you have an idea of what areas are taking up the most room it's time to take action!
Click the 'Manage...' button to see recommendations for optimising storage space such as using moving files from your hard drive into iCloud to free up space, emptying your trash every 30 days to prevent a build-up of unwanted files and most importantly - identify files and delete files that haven't been used in a while or are no longer useful.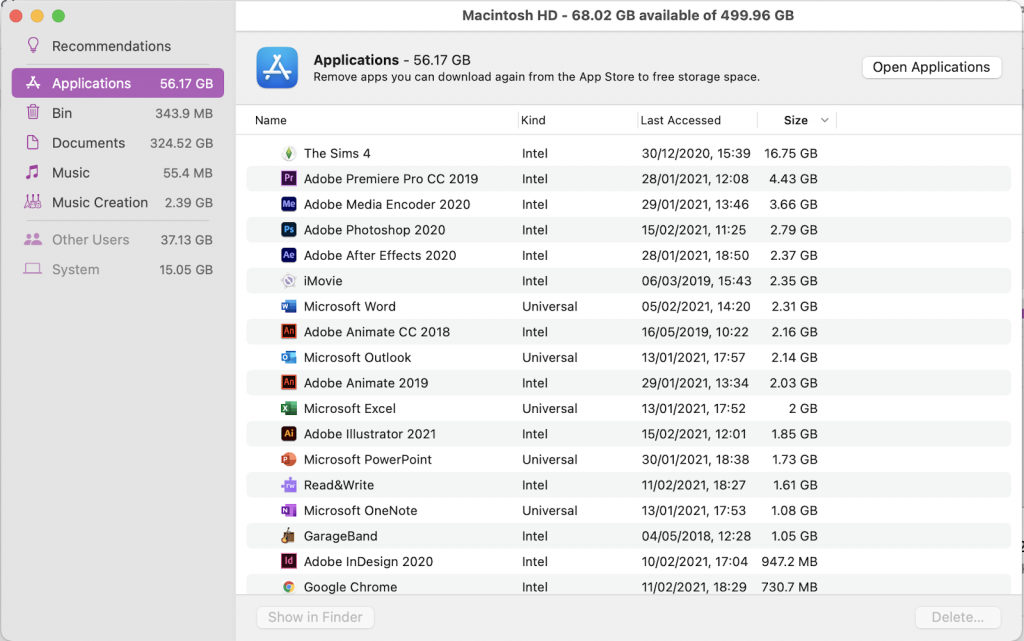 It's like Marie Kondo says "The best way to choose what to keep and what to throw away is to take each item in one's hand and ask: "Does this spark joy?" If it does, keep it. If not, dispose of it." Although I suppose in this case it's less about whether or not the item (e.g file, folder, app) 'sparks joy' but rather - is it needed and can it be stored somewhere else? like an external drive or in the cloud.
Back up files
For the items on your drive that are important, can't be replaced or don't necessarily need to be there but you'd like to keep them regardless (pictures, videos, projects etc) backing up your files is the perfect solution for you! Backing up your device is an extremely important task - especially when it comes to the current files on your computer, which are too precious or important to delete.
If your computer suddenly breaks, becomes corrupted or gets stolen, the information stored on your drive will be lost forever. In order to prevent this, we suggest backing up your PC on a regular basis (once a week or more if you're working on an important project). You can do this by making a copy of your device's entire hard drive or the specific file(s) you'd like to save and transfer them to an external device (hard drive, USB stick) or online backup service - if you're unsure about which service to use check out the Best cloud backup of 2021 by TechRadar for their recommendations.
Malware Protection
As you're probably aware, "Malicious Software" or Malware is a form of software (spyware, viruses, Trojan horses), that has been specifically designed to damage or gain unauthorised access to the files on your computer - in order to steal personal information. At this point, you may be asking "How do I protect myself against these attacks?". Well, that's where Malware protection comes into play - this software stops viruses and Malware from accessing your PC by running regular scans of your hard drive in order to detect and remove any Malware.
Software Updates
I'm sure a lot of us are guilty of avoiding the latest computer updates as soon as they're released - due to the amount of time they take to update, multiple computer restarts and the rise of important projects...here's the problem with that. Operating on outdated software leaves your devices wide open to malware and virus attacks, as most updates are created to not only keep your device safe from potential threats but also ensure it can continue to work efficiently.
Keeping our PC's and software up to date is a must for the team at Develo, especially when it comes to making sure we're Secure & Tidy. Found this post and others helpful?