Discover how AI can transform your eCommerce store and improve its performance! As a web development agency, we understand the importance of utilising AI tools to provide an optimised experience for your customers, while also saving you time and money.
Artificial Intelligence is the process of machines learning how to simulate human intelligence, through recognising and processing language, speech, and visions. Here are some AI modules that can benefit your eCommerce store:
1. Search Optimisation
Algolia AI
Algolia AI is a self-learning technology that improves the quality of search results on your website. It understands the habits of customers and offers personalised results to improve their experience. Customers can search in their native language and receive relevant results even if queries have typos.
2. Improve SEO and Performance
SpeedSize
SpeedSize is an AI technology that compresses your videos and photo to help improve the performance and speed of a site. It maintains high-quality images or content while reducing the size by 99%. It guarantees improvements to Google Lighthouse Web Vitals, therefore improving your SEO ranking.

3. Provide a Personalised Experience
Quin
Quin Engine is an audience engine AI that uses real-time data, and customer behaviours to segment your audience and create actionable insights. It can personalise their journey by identifying the customers through their shopping habits on your site and their interactions.
4. Improve Search Experience
Syte
Syte.ai allows your customers to find products through a visual search experience. Customers can search using image uploads and AI will produce personalised results.
Syte also has other great features such as AI Tagging and Merchandising.

5. Organise your Products in Excel
Excel Formula Bot
Excel Formula Bot generates formulas for Excel and Google Sheets to save you time on problem-solving. You can use Excel Formula Bot to create formulas to help organise merchandise attributes, and quantities ready for import and exporting product data.
6. Save time with Generated Product content
ConentAI
ContentAI can automate and ease the process of content creation for websites. It generates product descriptions - long and short, and SEO by scanning your product catalogs.
Content AI can save you money and time with those with hundreds and thousands of SKUs.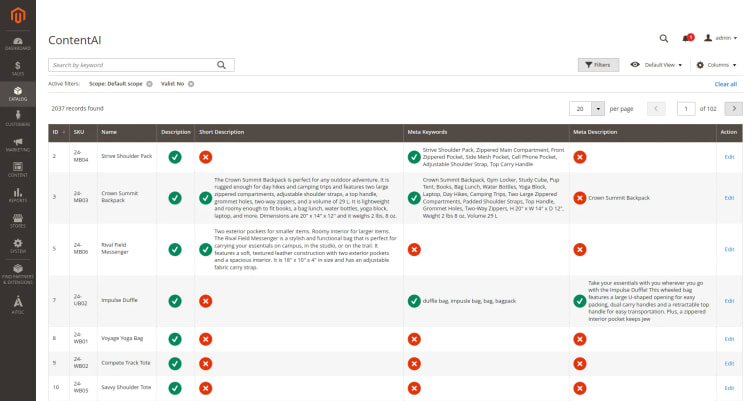 7. Optimise the engagement of your email marketing
Seventh Sense
Seventh Sense creates personalised email delivery for every customer to increase conversions. It alters the delivery time for optimal engagement, segments customer types and gathers data for reports.
These are just a few innovative AI tools we have discovered when developing websites for our customers, and working as an eCommerce agency. Integrating AI into your workflow throughout your business (where appropriate) can help you optimise your time, and save money while also improving customer experience and increasing conversions.

Ready to optimise your eCommerce site with AI? Contact us to learn how we can help you integrate these innovative tools into your workflow!