As the eCommerce landscape excels, reviews are playing an important role for online businesses. Customers now have the ability to shop around and compare with a touch of a button. So we all need the help we can get, to outshine our competitors... and reviews can do just that!
In this article we discuss how gathering reviews can impact your business, and we will recommend some review platforms to integrate into your store.
How do reviews affect your business?
Authenticity and Credibility
Having reviews of your business and products helps to build your online presence, increasing your exposure and driving sales. A product or brand, with little or no reviews, often deters customers from purchasing as they are deemed untrustworthy.
92% of consumers hesitate to make a purchase if there are no customer reviews - Fan and Fuels
Having a balance of positive and negative reviews can be beneficial, a perfect score of 5-star reviews can often be considered unauthentic, while those between 4-4.7 stars often see an increase in conversions. Negative reviews are not the end of the world, they give your business the opportunity to address issues that the customer may have experienced, showing that you value your customers and their feedback.
Customer Satisfaction
Social is not the only platform where brands can increase engagement and brand trust, by harnessing reviews on your website you can create impact and build loyalty. Customers are just as likely to trust a business if they have a repertoire of positive reviews vs a personal recommendation.
Looking at feedback from customers allows you to understand where you can improve your services and products. This opportunity allows you to build a relationship by responding to consumers and gaining a rapport.
Sales
eCommerce stores give shoppers the freedom to purchase various products and multiple sizes on the go or in the comfort of their home, without the ability to touch or try on - Often resulting in returns.
eCommerce stores have almost triple the returns of highstreet stores, costing retail businesses a total of £60 billion a year (Youcuda)
Therefore reviews can somewhat bridge the gap between online shopping and highstreet stores. Giving customers an insight into the product they are wanting to purchase from the perspective of a previous buyer, forming an unbiased opinion on a product. This works particularly well for clothing brands who can use reviews to illustrate the fit of a product and how true it is to size.
How retailers use their reviews
ASOS uses their customers reviews on their products to help other consumers purchasing decisions. Future shoppers can understand how the products fit and the quality for their money in comparison to the product description. Helping reduce returns and aid purchasing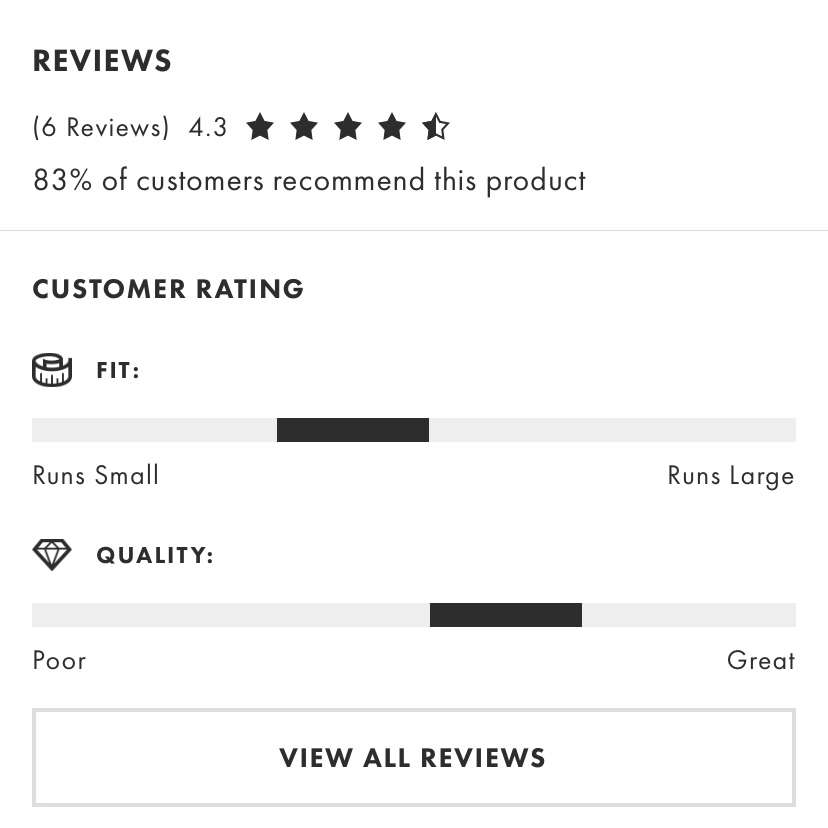 Product Reviews and SEO
Experts aren't 100% certain if or how review sentiment affects Google rankings, however positive reviews do encourage a higher click-through-rate and building up your Google Reviews can certainly have a positive impact. In addition to this, if customers mention keywords your company is trying to rank for e.g location, it will help you appear for local terms for your services, and increase your Google Business results.
If you're using a review widget on your product pages you can use this in your schema mark-up so that the star rating is pulled through to your product listings on Google Shopping. If your product is listed on multiple sites then Google will collate the reviews to form one average rating.
93% of consumers say that online reviews influenced their purchase decisions. - Podium
Review Platforms
Feefo
Free trials are available, with packages ranging from essential (£79)to enterprise. Feefo ensures that reviews are from verified buyers to provide your customers with a trusted experience and allows you to provide actionable changes through insights, with segmentation, and key trends notifications.

Each package has various benefits, such as the number of email reviews allowed each month, quarterly meeting reviews, and Facebook ads. However, some standard features are the ability to collect photos and videos, the integration of the Feefos widgets on your eCommerce store, and star ratings being displayed on Google.


Trust Pilot

Trust Pilot offers a free plan or standard packages, along with custom add-ons at an additional cost. It is suitable for both small businesses and large international companies.

Trust Pilot gives you the option of display widgets, access to performance reports, and Google ratings. Along with the ability to manage controls for various employees and location-based response.
Reviews.io

The more budget-friendly option, Reviews.io starts from £29 a month with other various packages - Along with the option of a 14-day trial available.
Review.io also has features similar to those of its competitors, Google star rating, display widgets, and multi-content reviews.
That being said, Reviews.io has an integrated feature that allows you to identify influencers that shop with your brand, enabling you to connect to build brand awareness.

An enhanced feature we also noticed, allows you to collate othere are review platforms such as Google, Yelp, and Trust Pilot to display your customer's feedback.
Yotpo
Flexible packages, starting from free versions - with no time limits, to custom-built packages, perfect for small to enterprise businesses.
Yotpo allows you to send review prompts through SMS, allowing for reviews on the go and easy access. With audience segmentation and widget displays and visual galleries to present review content with an Instagram feel. Other features of the custom-built packages vary, from dedicated strategic and managers to A/B testing.
To answer the original question, yes we believe you do need reviews on your site to ensure your brand stands out in the ever-evolving landscape of eCommerce. Every business is different so it's important to utilise reviews in a way that suits you and your customers. If you require guidance on any of our suggestions above then please don't hesitate to get in touch.
Looking for other ways to optimise and upgrade your website? Checkout our article on Product Photography!