What is User-Generated Content?
User-generated content (UGC) is content created by your audience and users of your products/services. This can be in any form of content, from video and reviews to photographs.

UGC can come in the form of organic posts, ambassador content or celebrity endorsements. This content is posted on their platforms and therefore likely reaching your target audience. The images your users create can be reshared (with permission) on your social platforms giving you free, authentic content, and building your reliability.

Why should you use UGC?

UGC is the modern version of word-of-mouth, with 85% of consumers finding visual UGC more influential than brand photos or videos - Offerpop. User-generated content is clearly a new marketing method brands need to consider. It allows brands to build trust between them and their potential customers, which will therefore increase conversions and encourage the customer's purchasing journey. It is also a great cost-effective way of creating content, and marketing strategy.
Establishing your brand
This form of content gives loyal customers and users the opportunity to feel a part of something bigger - your brand! It helps build a community of engaging customers who promote your brand due to meaningful engagement and interaction.
It's important to get the creator's permission to use their content, helping develop brand loyalty and giving them the opportunity to gain exposure and credit in return for shareable content to your platform.

Let's consider some brands and how they use user-generated content:
Starbucks
Starbucks users consistently share their user-generated content. For example, customers love personalisation of brands, as seen with Starbucks. Customers frequently post their orders with their names on - even if they've spelt your name wrong, it adds to the authenticity and is shared either way. This, therefore, gives Starbucks free marketing through social media channels due to such an easy method of inclusion of their customers, through an iconic method of marketing.

Starbucks has launched various campaigns which have encouraged and accumulated great interaction. Such as the #whitecupcontest and #redcupart where customers were encouraged to use Starbuck cups as canvases for creative designs.
Shreddy
A fitness app created by Grace Beverley creates competitions that encourage users to share their fitness journey using the app. With regular competition from progress to fitness challenges, they are encouraged to use the shreddy #'s to build the brands community. Winners are then selected and they are rewarded with a prize.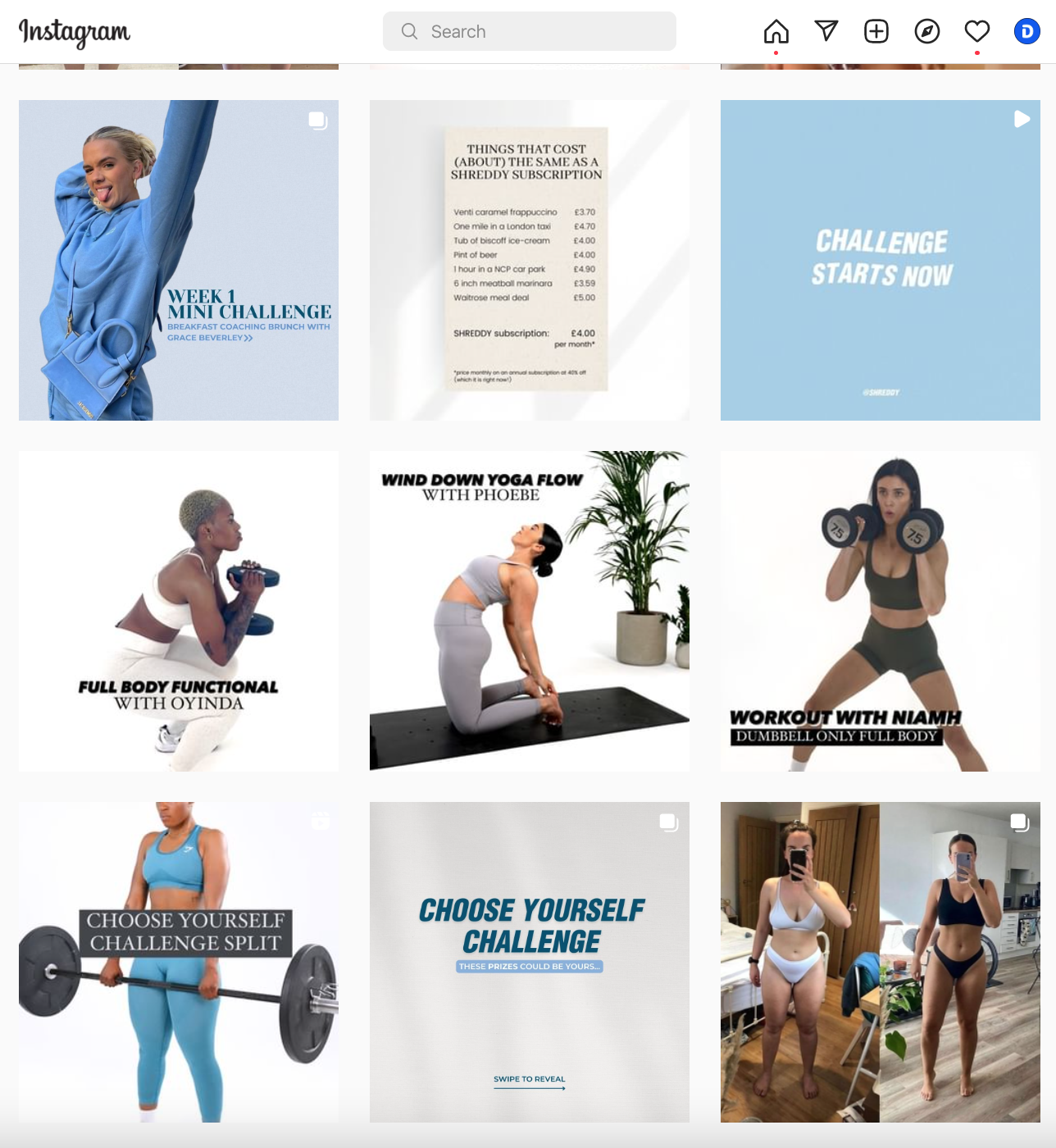 Shreddy uses this form of UGC to encourage its user's fitness journey as well as to attain content and free marketing by the customers who participate. It's a great way to build the brands rapport and relationship with loyal customers, as well as support them.
Types of UGC
Making something 'instagrammable' is becoming more important, with not only products being snapped by users, but events and restaurants, shared within seconds of taking a video or snapshot. Staying open to these opportunities can benefit businesses through shareable content on various platforms, with locations and brands being tagged with a click of a button.
Attractive or interesting enough to be suitable for photographing and posting on the social media service Instagram.
- Cambridge Dictionary

USG is a great way to promote your brand through authentic content that can be trusted by your audience. There are many different types of User-generated content:
Photos
Videos
Live Streams
Testimonies
Blogs
Use of specific hashtags
Tagging your store/restaurants location
Surveys
Choosing your Platforms

Finding the right form of content that responds well to your audience on any platform, is crucial for this marketing strategy:

Instagram:
Instagram provides a vast opportunity for UGC, with the 'for you page', reels, stories, lives and feeds, content can be posted and viewed in various formats. Instagram gives users the opportunity to create a feed that is often influential and community-based. A lot of brands using more UGC on their grids, particularly clothing and lifestyle brands.
Stories provide you with a quick and easy ways to share the user's posts and archive them on your profile for viewing. Allowing you to segment products, services and USG easier to permanently display on your page.
Tiktok:
Tiktok has blown up and changed the world of content creation. The short-form video platform, identifies your niche through videos you watch and interact with, therefore promoting similar content to your feed from like-minded users.
It's a great platform for USG as users often create reviews and feature products, for example, discussing their favourite products for skincare routines, ingredients for a how to cooking video, and favoured software for designers, to just name a few. It allows users to duet video content, providing opportunities for brands to respond, or for other viewers to try it out, creating a larger reach for organic content to be shared and your brand to be seen.
Facebook:
UGC is a great way to promote your business, using this content within ads on Facebook and Instagram can help improve rapport and trust as it provides direct reviews from customers. Helping support the discovery of your brand to new customers and encourage conversions.
48% of customers say that UGC is a great way to discover new products - Forrester
Facebook also allows for the use of groups, this can be private or open. These groups can help brands segment their audience and can directly promote content to its potential and current customers. Building an exclusive community for loyal users to feel part of your brand and generate UGC.
Twitter:
Twitter is a great platform for communities in specific industries, helping brands identify their audience and build awareness. With the likes of the twitter explore page exposing you to topics and interests relevant to you, it's an ideal place to share content and conversations with your customers.


Ways to Collect UGC
Once you've selected your platform(s) it's important to maintain a visible presence online. A great way to do this is by interacting through trends. That being; using trending audios in your videos or interactive memes, or prompting the use of a hashtag within your community.
Some other ways of gathering UGC:
User Insight:
User Insight is a platform created to allow businesses and services to create custom surveys to receive feedback, and insights into customers' experiences.

It has unique features of video and audio recordings allowing your brand the opportunity to attain UGC directly from the customer through their response. You can easily request feedback via email or text message and face-to-face consultation, enabling you to control authentic responses from real customers.
Pixlee
Pixlee gives your business access to all UGC created by your audience on any social platform. This gives you the opportunity to convert reviews and visual content into branded marketing, as well as the ability to find and interact with loyal customers from one space.
You also have access to sourcing top influencers in your industry, to help build authentic content your audience will engage with.
Forum
An integrative Magento module which allows authentic customers to create topics for discussion, and for brands to archive FAQs. Forum allows businesses to make valuable interactions with their community and customers, supporting their buying journey and purchasing decisions.
Elfsight
Elfsight is a great way to present your UGC on your website, allowing you to upload your Instagram feed to your eCommerce store or website. Reinforcing your established brand and promoting authentic responses from customers, to help convert sales.
If you are looking for other ways to upgrade your website, check out of Product Photography article.